Planning Your Kid's First Birthday
Planning a first birthday party is never easy for parents. The anxiety is extreme and you just want to make everything perfect for the most precious thing in your lives. However, you don't need to go over the top and have a party full of extravagances. After all, your baby won't even appreciate it.
Here are some of the things you need to consider when you're planning your son or daughter's first birthday party:
#1: Who To Invite:
You should try to keep the party as small as possible, with only the closest family and friends. Your baby just wants her mom and dad attention and she might even be afraid of strangers and new places. So, it's better safe than sorry.
#2: The Time Of The Party:
When you're planning a first birthday, you need to remember that your little baby probably still needs his nap. So, make sure that you schedule the party to after his nap when he isn't tired. Besides, you need to keep the party brief.
#3: The Venue:
The best place where you can have your son or daughter's first birthday is at home. They will feel more secure and you can decorate the room with some colored items, for example.
#4: The Food:
When planning a first birthday, the best kind of food that you can have is finger food. This isn't only great for babies as well as it is for adults as well.
You can serve, for example, tiny sandwiches, bread sticks, or cubes of mild cheese, for example. You can also have some plain biscuits.
However, one thing is for sure. It's better to have a wide variety of foods than to have a large quantity.
And, of course, don't forget about the birthday cake.
#5: The Theme:
The theme is super important because most of the fun comes from the theme you pick. There are so many options when it comes to themes. A lot of online stores make it easy for you to decorate with the birthday theme you want by providing theme kits, for example:
#6: The Presents:
At this age, your baby will love any toy that lights u or makes a noise. So, a good activity center is usually a good idea, besides textured board books or new bath toys.
#7: Mascots:
It is always fun to hire an entertainer to keep the party more enjoyable. You can look for a magician or a Disney character that goes with your party theme. If you have friends with a few years old kids, the mascots will for sure bring smiles to your party!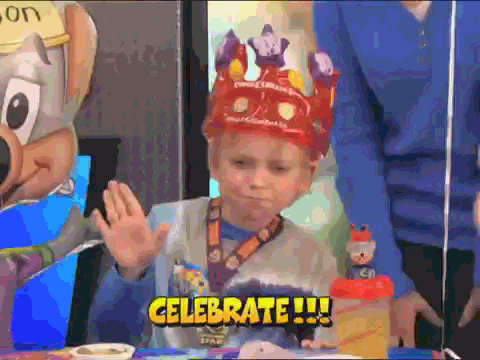 Please reload